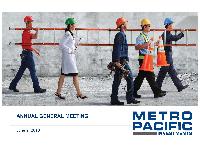 There's a question raise about my intrinsic value calculation of MPI in one of the forum. Consensus target price is P4.57 while my calculation is P9.3 which is very high(see my previous post about
MPI Stocks Review here
. But this is just the figure I get after plugging in the data (operating cash flow) of MPI in 2010. Remember that stocks or any asset value is equal to the present value of all the income (cash or money) it can create in the future. Discounted cash flow uses operating cash flow as the basis since it is more predictable. Net income are inclusive of intangible values and are so are more prone to manipulation so not recommended for projecting the future cash flow.
Let us assume that the operating cash flow of MPI in 2010 is too good to be true and is not a good basis for its valuation. Also, let us assume that Net Income is the more realistic basis of future cash flow and recompute the stocks value based on the total present value of this future cash. Below is the result:




As per the calculation, the stock price is P5.4. Of course you should buy lower than that. Suggestion is to buy it at P3.5 or lower (35% margin of safety).